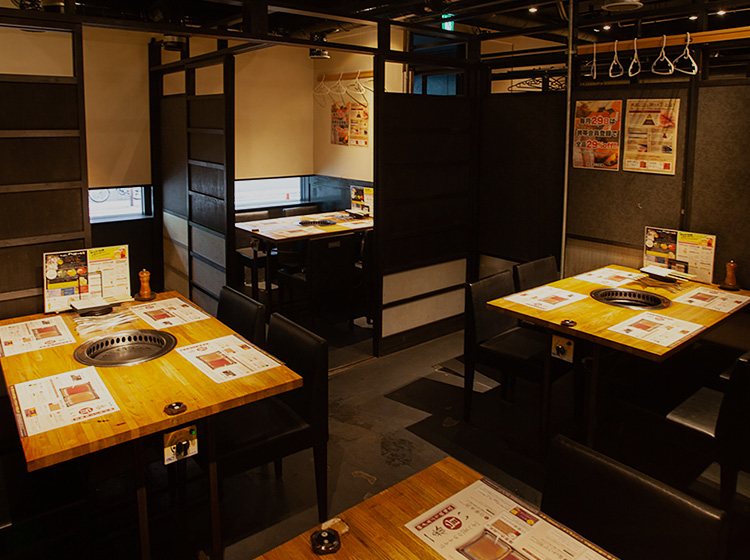 Guests with reservations have priority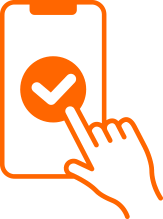 Please complete your reservation by clicking on the

Reservationbutton before your visit. We have some seats available for walk-ins, but you may have to wait a long time to be seated or be unable to enter.
Please make use of mobile ordering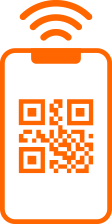 Use your smartphone to scan the QR code provided in order to place orders for a la carte items and drinks. The interface is available in Japanese, English, Chinese, and Korean. If you wish to order a course, please inform our staff at the start.
*Course prices are for one person. Please order the same course for all members of your group.
Please check the recommended way to enjoy each dish

The recommended seasonings vary depending on the type of meat. Please check the sheet on the table to select the best seasoning.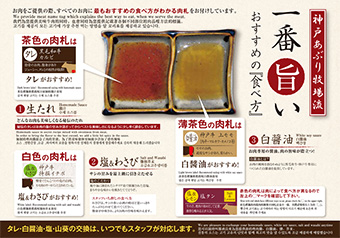 Please pay your bill at the table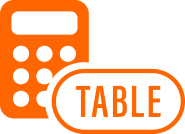 Please call a staff member when you wish to pay your bill. Please check over your bill and pay while seated at your table.
The all-you-can-drink course operates under the glass exchange system
Your next drink will be served to you in exchange for the glass of your previously finished drink. Please finish your drink before placing your mobile order.
※If your glass cannot be exchanged, it will be treated as a separate order and there will be an added charge.
Please do not bring other food or beverages into the restaurant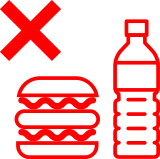 If you are discovered consuming food or beverages purchased at another establishment within the restaurant, you will be charged a fee of 2,000 yen per person. The consumption of baby food is allowed.
*Bottles (of up to 750 ml) may be brought in for a fee of 2,500 yen per bottle. However, prior notification is required.
No smoking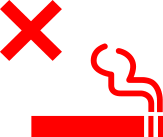 Smoking is prohibited throughout the entire restaurant. We ask that you exit the restaurant to smoke.
Course change or cancellation on your reserved day of visit

Course change on your reserved day of visit (e.g., changing from beef to the other meat): An additional charge of 500 yen per person
Cancellation on your reserved day of visit: 100% cancellation fee
A lecture on how to grill meat to bring out the most flavor
If you grill your meat in the right way, you can enhance the flavor. Please enjoy your meat in the most delicious way possible by grilling it properly.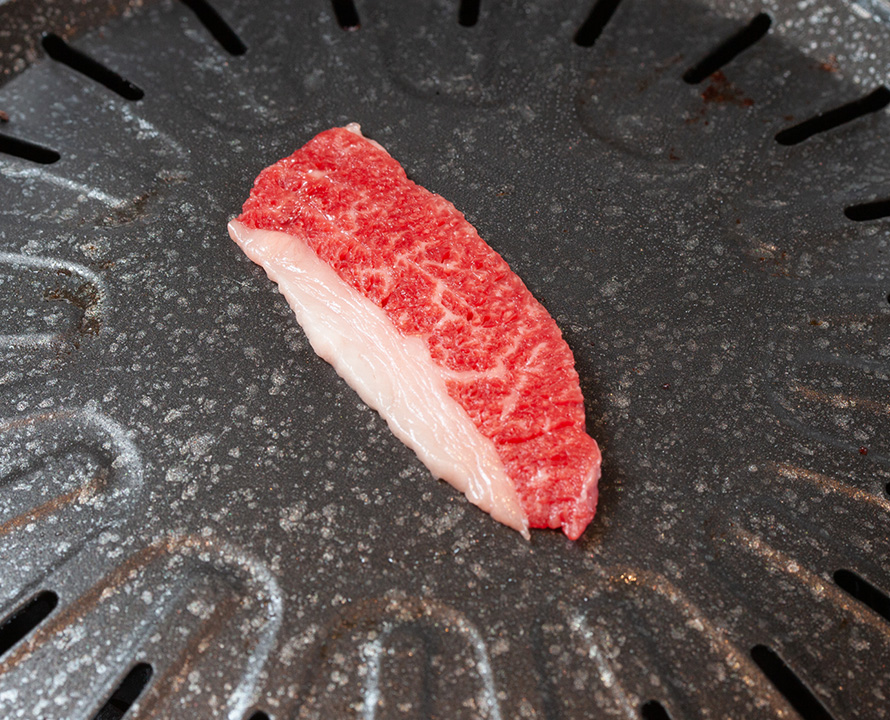 STEP 1
Grill in the center of the roaster on high heat to leave clear grill marks.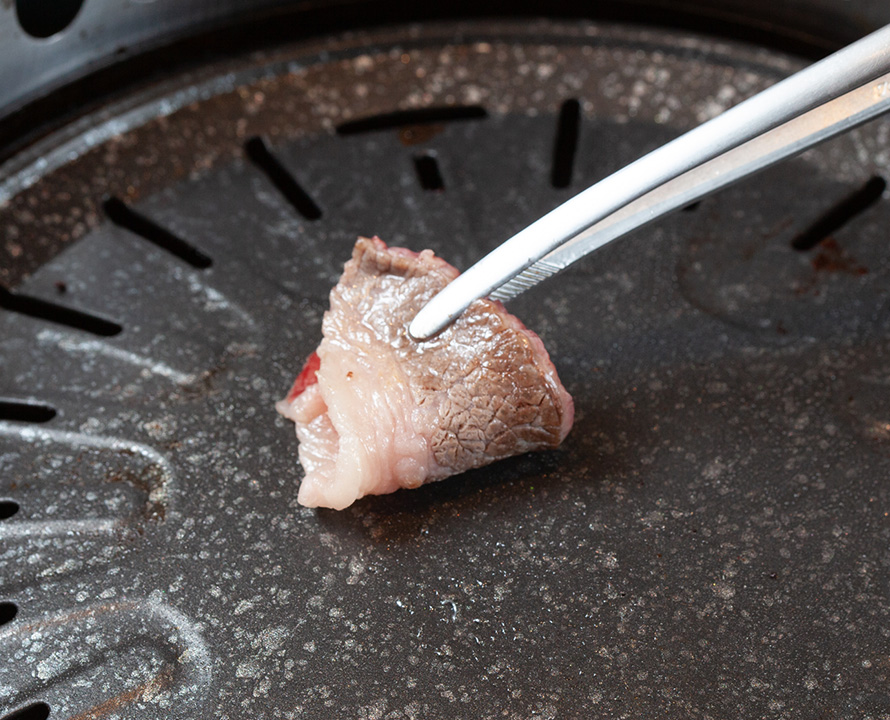 STEP 2
Once juices begin to seep out, flip the meat over a single time. Please be careful not to flip the meat over multiple times as this reduces the flavor.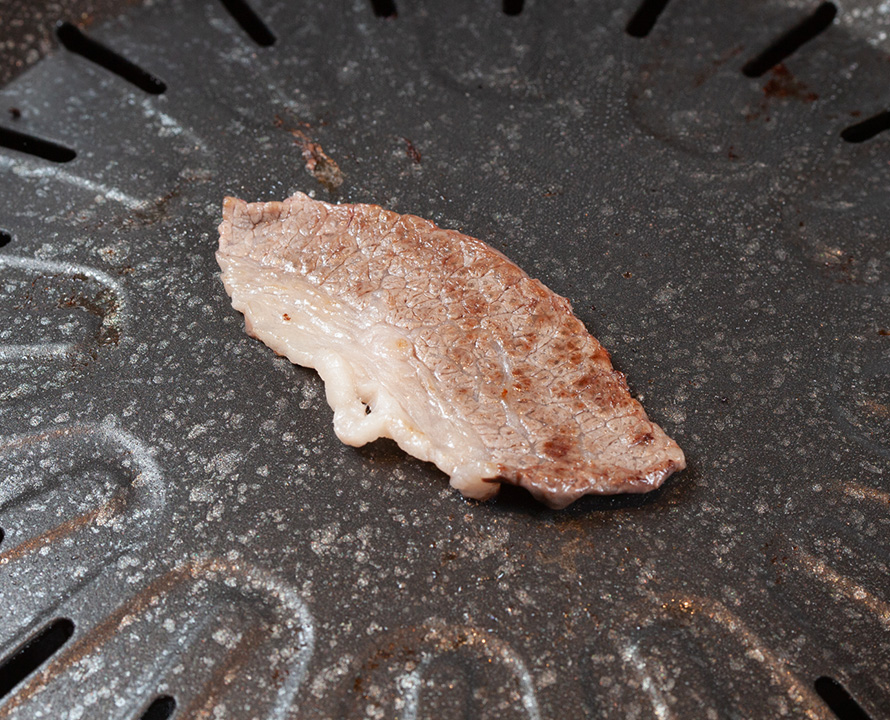 STEP 3
After flipping the meat, remove it from the roaster in just few seconds and place it on a dish. If you overcook your meat, it will become tough. Also, after placing it on a dish, if you wait 30 seconds before eating it, the meat will taste even better as the fat in it will have settled down. Please give this method a try.